In Mozambique, the Southern Africa Federation of the Disabled (SAFOD) works with its national affiliate, the Forum of Mozambican Associations of the Disabled (FAMOD). The latter was born in 1998 as the umbrella of all DPOs in the country with the technical support of SAFOD.
Officially, following the national census of 2007, the population was 20,366,795 inhabitants but current estimates point to about 25 million inhabitants. About 2.5% (475,011 inhabitants) of this population were considered to have some disability. However, the Sintef research estimated at 5.8% disability prevalence, of these 53% were men.
However, there is a general belief among disability experts that the national census data may be far from being true. FAMOD believes that there is no accurate information about disability in Mozambique including, for example, the number of persons with disabilities, age, sex and disability types.
Mozambique was one of the countries that benefited from the representative studies on Living Conditions of Persons with disabilities in Southern Africa which was a result of an international co-operation between SAFOD, Norwegian Federation of Organizations of Disabled Persons (FFO), and SINTEF Unimed. The study brought to the fore the real situation of Persons with disabilities. It was found that the largest number of Persons with disabilities was made up of young people, adolescents and children. They were the most disadvantaged. Women were doubly discriminated against.
In terms of legal protection, the recognition of sign language as an official language for the hearing impaired has been cited as one of the achievements. In December 2009, the National Council for Disability was established, and in June 1999 resolution on disability policy was passed. The United Nations Convention on the Rights of Persons with Disability (UNCRPD), which includes a whole Article on assistive technology, had since been signed and ratified by the Mozambique Government.
With regards to assistive technology, it is reported that most AT supplies come from donors, and very few have access to them. There are very few, if at all any, AT suppliers. ATs are also acquired by the majority from the hospital through the Ministry of Health at a small scale. The ministry also waits for donations from their international partners.
The government only supplies crutches and artificial legs and arms made from rudimentary materials. Other categories of AT are critically invisible in Mozambique. This is partly attributed to the long history of war that resulted in high numbers of amputees. They seem to have overshadowed other types of disabilities. Supply-chain related barriers (including transport logistics, among other things) and cost-related barriers are rated highly by FAMOD on the scale of critical challenges.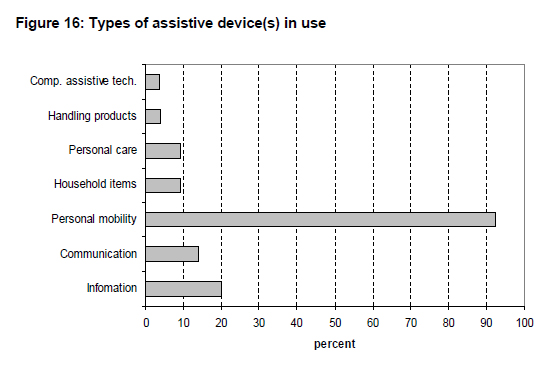 "Most of these devices have to be imported from outside the country at very high prices. It happens that most of the persons with disabilities are the poorest of the poor in Mozambique, and they cannot afford to pay for these ATs," says Kennedy Nhengu, FAMOD Executive Coordinator and AT-Info-Map National Admin.
DPOs have been working with international partners to supply ATs, but the government creates barriers though imposing customs duty which DPOs are not able to pay. FAMOD itself has been one of the beneficiaries of the assistive technologies donated by charity organizations (crutches and wheel chairs). Like many other organizations in the disability sector, they do not have the expertise to deal with repair issues for broken ATs of their clients/beneficiaries, so they refer all broken ATs to specialists.
"Repair is left to the owner of the device since we have no expertise and necessary machinery to do the same," Nhengu adds.
Lack of repair expertise among non-profit service organizations has proved to be costly on the part of their clients. The majority of these continue to live on less than two dollars per day despite the country enjoying more than 20 years of strong overall economic growth since the end of its civil war, averaging over 7% per year, according to CARE International.
From a policy perspective, there is one piece of legislation – The access to information for all – that includes articles specifically on assistive technology related to information, but FAMOD believes that persons with disabilities in general are not enjoying this right.
However, there appears to be not much that has happened with regards to policy and legislation related to accessibility in general. Although, according to the Living Conditions Study, 10 – 20% respondents stated that accessibility was a bigger problem outside the households, with many important public and private offices and facilities not being accessible for a large group of individuals with disabilities. Close to half reported that hotels, work places, post offices and banks were inaccessible. To some extent this might have reflected gaps in supply and quality of assistive devices that was also revealed through this study.
To address these age-old accessibility challenges, persons with disabilities have advocated for a disability law in Mozambique, which has now been designed with involvement of persons with disabilities. As of March 2018, it was expected to be presented in the House of Parliament at the earliest convenience. Most disability experts and advocates hope that that when the law is finally passed, it is going to be game-changer not only in the context of protecting human rights of persons with rights from the litigation perspective (as those who will be violating this law will, this time around, be penalized by the law), but also in the context of making accessibility for persons with disabilities an enforceable human right enshrined in a proper law.
SAFOD will continue to update this page with any new interesting information related to the AT situation in the country, or if you are a disability focused organization that has worked in Mozambique, an independent researcher with any useful information about the AT situation the country, SAFOD would love to hear from you should you be wiling to share whatever related information you may happen to posses. Please contact us here